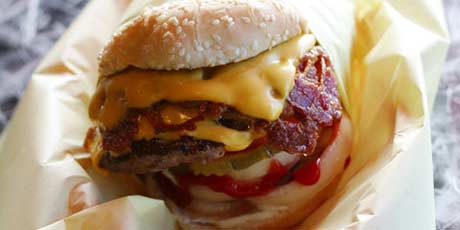 a delicious recipes is actualy wanted by everyone. Just because a delicious Recipes my be the begining of any Hapyy family. Consequently For your personality Housewive Create tasty, delicious and nutritious dishes.
This recipe has been adapted for the home cook from Hodad's recipe, courtesy of Mike Hardin. What makes this burger really special is the bacon patty.
Directions for: Hodad's Bacon Double Cheeseburger
Ingredients
3 slices bacon ends or thick-cut bacon
2 slices cheese, of your choice
lb(s) ground beef chuck
salt and pepper
1 hamburger bun, lightly toasted
2 slices dill pickle
2 slices tomato
1 handful shredded lettuce
2 slices white onion, or to taste
mustard, to taste
ketchup, to taste
mayo, to taste
Directions
1. Place the bacon in a saucepan with enough water to cover it. Bring to a boil and then reduce to a slow simmer for about 45 minutes, or until the bacon shreds easily.
2. Meanwhile, form the ground beef chuck into a patty and season with salt and pepper. Reserve.
3. Remove the bacon from the water and place a small pile on one side of a large frying pan. Use a flat metal spatula to press down on the bacon as it cooks, forming into a thin, flat, patty.
4. Place the beef patty on the other side of the frying pan and score with the edge of the spatula.
5. Flip both the beef and bacon patty over, cooking on both sides. Continue to press the bacon patty with the spatula to flatten it. Cook bacon until it is crisp on both sides and resembles a hashbrown. Cook the burger patty to desired doneness.
6. Begin assembling the burger. Slather mustard and mayo on the bottom half of the bun. Stack onion rings on top of each other and drizzle with ketchup. Stack tomato slices and pickles on top of onions. Top with lettuce.
7. Place a slice of cheese on the bacon patty and the hamburger patty. Place the top bun on the bacon and transfer the bacon patty on top of the beef patty. Lift the whole contraption off the grill and place on top of the bottom half of the burger.
8. Wrap up the burger in some waxed or parchment paper and dig in!