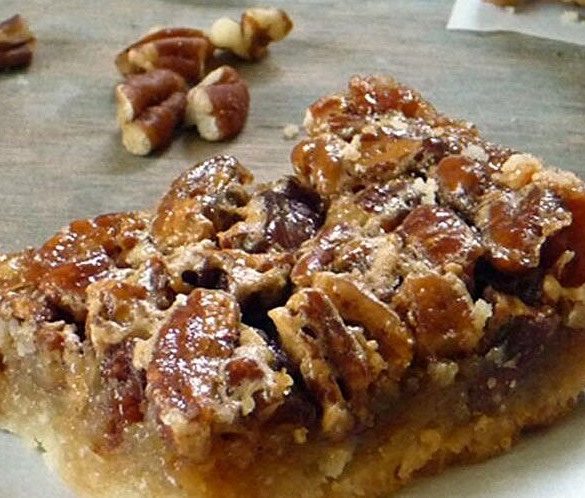 These pecan pie bars are great for the children and adults in any family.
These bars are incredible. I had to put them in another room so I would stop eating them. I used parchment paper as…you have to use this! Makes it soooo much easier! Also it takes much longer to cook then 25 mins. I m not sure if that was a typo in the recipe or not but I cooked mine for almost 60. I used a 9 x 13 and will definately use a larger pan next time! You won t be disappointed.
This recipe was fantastic! I read other's comments and decided to keep the serving size as directed by the recipe. However I did line the jelly roll pan with foil and made the sides of the foil about 1/2 inch higher than the pan to prevent it from boiling over. I would highly recommed this recipe.
Ingredients
3 cups all-purpose flour
½ cup white sugar
½ teaspoon salt
1 cup margarine
4 large eggs eggs
1 ½ cups light corn syrup
1 ½ cups white sugar
3 tablespoons margarine, melted
1 ½ teaspoons vanilla extract
2 ½ cups chopped pecans
Instructions
Step 1
Preheat oven to 350 degrees F (175 degrees C). Lightly grease a 10×15 inch jellyroll pan.
Step 2
In a large bowl, stir together the flour, 1/2 cup sugar, and salt. Cut in 1 cup of margarine until mixture resembles coarse crumbs. Sprinkle the mixture evenly over the prepared pan, and press in firmly.
Step 3
Bake for 20 minutes in the preheated oven.
Step 4
While the crust is baking, prepare the filling. In a large bowl mix together the eggs, corn syrup, 1 1/2 cups sugar, 3 tablespoons margarine, and vanilla until smooth. Stir in the chopped pecans. Spread the filling evenly over the crust as soon as it comes out of the oven.
Step 5
Bake for 25 minutes in the preheated oven, or until set. Allow to cool completely on a wire rack before slicing into bars.